Trusted air duct cleaning Austin
We specialize in air duct cleaning, dryer vent cleaning, and much more
Within years, we've gained our reputation due to the excellence of every professional. The customer is our top priority, and we can't stress it enough. We value your sense of security and comfort in your own home. That's why we constantly ensure that any professional entering your household is thoroughly trained and takes full responsibility for trusting them.
 Best Air Duct Cleaning In Austin
If you live in Austin, you already know your HVAC system's importance, given how hot the weather can get. But did you know that ductwork is one of the essential components of your HVAC system? This network of pipes ensures that cooled air from your air conditioner is uniformly distributed throughout your house. Unfortunately, your ducts can develop serious problems that make them far less effective. 
For instance, if your ductwork leaks, you may notice a temperature difference as you move from one room to another. If your ducts are filled with dirt or other foreign materials, this can also lead to several problems. Because these issues can be challenging to assess, we highly recommend hiring an Austin duct cleaning professional. At Clean Air Austin Pro, we're always ready to help, so you can make sure your HVAC system is running at peak performance. 
Air Duct Cleaning
Air Duct Installation
Air Duct Replacement
Dryer Vent Cleaning
Dryer Vent Repair
Chimney Cleaning
Chimney Repair
Chimney Inspection
Attic Insulation
Your Local
Air Duct Cleaning Company
To Keep Your Family Safe
Our Air Duct Cleaning Services
At Clean Air Austin Pro, we offer several services that ensure your ductwork is always in good shape. Some of our services include
Air duct cleaning
Air duct replacement
Attic insulation
Duct sealing and insulation
Dryer vent cleaning
When it comes to anything HVAC-related, Clean Air Austin Pro has you covered.
Air Duct Cleaning Austin, Texas: When to Hire a Professional
Duct cleaning isn't usually included in routine HVAC system maintenance. So how do you know when to call an HVAC company for duct cleaning service? Some telltale signs that your ductwork needs a thorough cleaning include the following
Foul odors

Surfaces get dusty as soon as you've wiped them

The presence of rodents in the ducts

The increasing cost of running your HVAC system

Significant temperature differences as you move from one room or part of the house to another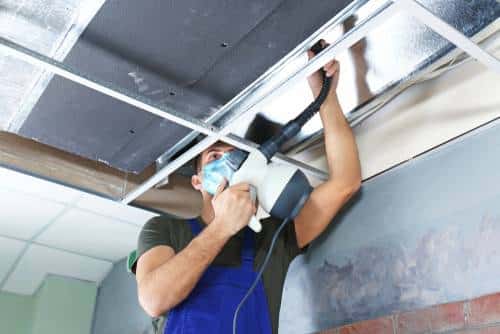 We only use our custom-produced products by the worlds leading green manufacturers.
100% Safe & Organic
We make sure to never use any allergen or harmful component because we care about you and your guests.
We Care About The Earth
All our cleaning products and their packaging are made of vegan and biodegradable materials.
Why Hire Us for Air Duct Cleaning Service
Although there are other duct cleaning services in Austin, TX, Clean Air Austin Pro stands out for several reasons. Some of the reasons we're the best at what we do include
Professionalism 
At Clean Air Austin Pro, professionalism is one of the values that set us apart. Our team comprises some of the best professional air duct cleaning experts in Austin, and they'll make sure the job is done decisively. In addition to cleaning your ductwork thoroughly, they'll check for defects like leaks and improper insulation and ensure they're addressed as soon as possible. 
Excellent Customer Service
Although we operate in a competitive environment, we've set ourselves apart as one of the most dependable Austin air duct cleaning companies by focusing on customer satisfaction. In addition to being thorough in every job, we always listen to our customers, understand their concerns, and respond to them promptly.  
Highly Skilled Austin Air Duct Cleaning Professionals
Duct cleaning is not a simple task; it requires skills and experience. At Clean Air Austin Pro, all our duct cleaners are adequately trained and equipped with everything they need to do their jobs effectively and efficiently. 
Call for The Best Air Duct Cleaning Services
We'd love your business if you need a quality duct cleaning service in Austin, TX. Get in touch with us today for more information about our company and air conditioning duct cleaning services in Austin, TX.